AA payments system is criticised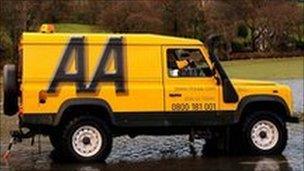 AA customers are having trouble in cancelling memberships after signing up using a continuous payment authority.
The AA typically offer a 15% discount to customers who pay by credit card and agree to have their subscription automatically renewed.
Customers told BBC Radio 4's Money Box programme that despite cancelling or trying to cancel payments, money was still being taken.
The AA says that it will review its procedures.
Customers are given a number of payment options when they sign up for services provided by the AA.
Direct debit and one-off credit or debit card payments are offered, but paying continuously on a credit card is the cheapest way to pay.
However, only companies who accept this type of payment instruction are able to cancel it - neither the customer nor their bank is able to do so.
Money Box listener Stewart Kettles told the programme that he tried to cancel his membership over the New Year period.
But his calls were not answered due to the high volume of calls during the bad weather.
Mr Kettles was not concerned because the Citibank credit card he had used to make the original payment had been cancelled several months before.
"As far as I was aware I had cleared the balance with the Citibank account when I cancelled it.
"They told me that they had paid the AA for renewal of my membership.
"I was mystified as to how they can pay a payment from a credit card that's been cancelled," he said.
Mr Kettles was unaware that credit card companies are honour-bound to pay continuous payment authorities to businesses who try and collect them.
Another customer, Jack Warshaw, told Money Box that he had called the AA to cancel his membership last year as he had chosen to get cover with a different provider.
But last month he received a "welcome back" letter saying that his AA membership was being renewed and his account would be debited using the credit card details they had taken the original payment from.
"When you take the trouble to cancel something and make that clear, I can't believe that they can pick it up at any later date they might choose.
"They retain your details, try and charge you and hope you don't notice," he said.
The AA told Money Box that both Mr Kettles and Mr Warshaw had received apologies and been refunded any membership fees and credit charges they had incurred.
AA Spokesperson Sue Beeson told Money Box that the company would act as a result of the complaints:
"The feedback that we've had from these two customers is really valuable. It makes us go back and look to see how we can improve things for customers."
Ms Beeson also said that any customers who had been debited when it had not been their intention to renew would be refunded.
Jemma Smith, from the UK Payments Council, told Money Box that customers should be made aware of their rights:
"It's quite clear-cut. If you have cancelled the transaction with the business concerned and then they subsequently take the money off you then the transaction has not been authorised."
BBC Radio 4's Money Box is broadcast on Saturdays at 1200 GMT, and repeated on Sundays at 2100 GMT.
Related Internet Links
The BBC is not responsible for the content of external sites.