TNT shares drop 10% on impact of higher oil price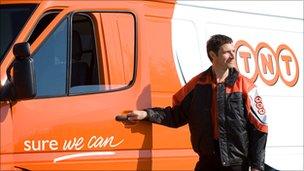 Shares in the Dutch logistics group TNT have fallen 10% after the company warned high oil prices and other problems would hit profits at its express unit.
The company cut its earlier forecast of operating income of 400m-420m euros ($607m, £370m) in 2011 for the unit, which it is planning to spin off.
A spokesman said that natural disasters would impact full-year profits.
He also pointed to disruption from the turmoil in the Middle East.
"Year-to-date trading conditions have been much more volatile than had been previously assumed. Volatility has been caused by a sharp increase in the oil price, social and political unrest and natural disasters," the company said in a statement.
TNT shares hit a 21-month low after the profits warning.
Performance in Europe had been satisfactory, it said, but other regions had suffered.
One country where performance for TNT Express has been particularly poor is Brazil, where it has had administrative problems. The company said it was addressing these issues with a new management team.
The company is planning to float its express unit from its core mail business as a separate entity late in May this year.
Its unsettled trading is at odds with its rivals, which include Deutsche Post, UPS and FedEx, which have raised prices and added fuel charges in order to offset higher oil costs.
World trade is expected to grow by 6.5% next year - something that delivery and logistic companies should be well-placed to profit from.
Related Internet Links
The BBC is not responsible for the content of external sites.