Families '£910 worse off this year', says CEBR report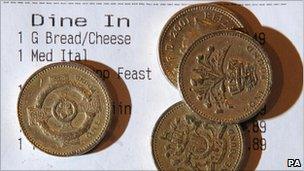 The average family will be £910 worse off this year as they face the biggest peace-time squeeze on their finances since 1921, according to a report.
Rising household bills mean spending power will be significantly less than two years ago, the Centre for Economic and Business Research said.
The consultancy estimates that disposable incomes will fall 2% in 2011, following a 0.8% drop in 2010.
Only the two world wars had bigger impacts on spending, the CEBR said.
The organisation forecasts that inflation will average 3.9% in 2011 - its highest since 1992 - as January's hike in VAT to 20% from 17.5% and the rising cost of oil and other commodities continue to drive up prices.
Pay packets, on the other hand, will rise just 1.9% as unemployment remains high and the full extent of public sector cuts kick in.
The report, due to be published on Monday but disclosed in the Sunday Times, says that the lower spending power means the economy will only grow by 1% in 2011 and will be "subdued" for the next two or three years.
The CEBR's forecast is below the 1.7% predicted by the government's Office for Budget Responsibility.
Several retailers have recently reported tough conditions on the High Street in 2011 as consumers remain cautious, with HMV and Dixons Retail, owner of Currys and PC World, reporting disappointing profits.
Meanwhile, Andrew Sentance, a member of the Bank of England's Monetary Policy Committee, repeated calls for a rise in interest rates to help rein in inflation.
Higher commodity prices, a falling pound, and signs of a pick-up in wages would lead to further upward pressure on inflation, he said.
"My argument is that we should already by now have raised interest rates a little bit to respond to some of these threats in the future," he said in an interview with Sky News.
At March's meeting of the nine-strong rate-setting committee, six members voted to leave rates unchanged, Spencer Dale and Martin Weale wanted a 25 basis point hike, and Mr Sentance voted for a 0.5% rise.
Related Internet Links
The BBC is not responsible for the content of external sites.