Viewpoint: China seeks greater Indian market share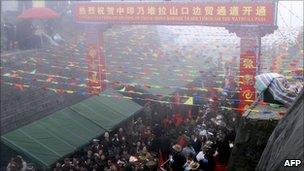 The encounter between China's president, Hu Jintao, and India's prime minister, Manmohan Singh, on the sidelines of the Brics summit in China this week will be one of the gathering's most closely watched events.
The two countries between them account for almost 40% of the world's population, and their rapid economic growth will probably be the defining trend of the 21st century.
The relationship between them will thus be crucial.
For the moment, China's core interest in the Sino-Indian relationship appears to be economic. Bilateral trade has developed explosively in recent years.
According to Chinese sources, exports to India in 2010, at $40.9bn (£25bn), were roughly 26 times the level in 2000.
Imports from India have grown somewhat more slowly, but at $20.9bn were still considerable last year.
The Chinese leadership is keen to maintain stable bilateral ties to ensure that this trade growth continues, but they recognize that China's rising bilateral trade surplus is a source of tension within India.
This understanding, coupled with India's important geo-strategic role, is probably one of the reasons why India's frequent use of countervailing duties and other trade sanctions against Chinese imports has not been met with the usual aggressive retaliatory wave of trade sanctions from Beijing.
Rather than pressing its concerns about these barriers to trade, China will be much keener to concentrate on the issue of market access for its firms.
India is embarking on a massive increase in infrastructure spending that is likely to be sustained for many years.
Meanwhile, Chinese firms are world leaders in infrastructure build-out, in sectors ranging from telecoms to ports, and from railways to power stations.
They are keen to obtain a slice of the market in India, where their ability to build projects on time and within (low) budgets should provide them with a strong bidding advantage.
However, at present they face many difficulties breaking into the contractor business in India, where government officials are suspicious of their ties to the Chinese state and concerned about their usual practice of shipping in large amounts of labour from China to work on the projects they undertake.
Mr Hu and Mr Singh will also discuss global issues.
As key leaders of the emerging world, China and India have often fallen into the same camp as they battle agendas they view as being driven by developed country interests. They brought the World Trade Organisation's Doha round to a halt in 2008 and held a joint corner at the Copenhagen climate summit in 2009.
In practice, however, China's ability to co-operate effectively in international negotiations is still quite limited.
In deals that have big domestic repercussions, consensus must first be reached at home, and negotiators' ability to diverge from this core line is limited. Bilateral co-operation on global issues will thus probably remain more a matter of fortunate coincidence than deliberate action.
Against this background, perhaps the most important aspect of the meeting between the two leaders is that it will build on the trip China's premier, Wen Jiabao, made to India in December last year.
These frequent high-level summits have helped address what had until recently been the most worrying aspect of Sino-Indian ties: The low level of interest they commanded in Beijing.
Overwhelmingly focused on the strategic challenge posed by the US, China has often overlooked New Delhi.
The growing level of interaction suggests that China's policy makers are at last waking up to the fact that they have a nascent great power on their southern doorstep too.
The opinions expressed are those of the author and are not held by the BBC unless specifically stated. The material is for general information only and does not constitute investment, tax, legal or other form of advice. You should not rely on this information to make (or refrain from making) any decisions. Links to external sites are for information only and do not constitute endorsement. Always obtain independent, professional advice for your own particular situation.