NYSE Euronext rejects bid from rivals Nasdaq and ICE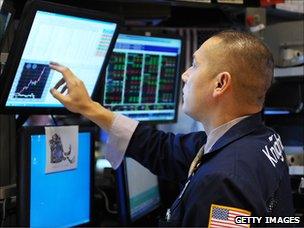 NYSE Euronext has rejected a bid from rival US exchanges Nasdaq and ICE, saying it will stick with plans to merge with Deutsche Boerse.
The Nasdaq-ICE bid was unsolicited and came after the NYSE and Deutsche Boerse announced their mutual plans.
In a statement, NYSE Euronext said the directors found the $11.3bn (£6.9bn, 7.8bn euros) bid from Nasdaq and ICE "strategically unattractive, with unacceptable execution risk".
Deutsche Boerse's offer is for $10.2bn.
Nasdaq and ICE, an Atlanta-based futures specialist, now have to decide whether to raise their offer, make a hostile bid for NYSE by appealing directly to its shareholders without the backing of the NYSE board, or whether to simply give up on the idea.
Despite NYSE's backing for the lower bid from Deutsche Boerse, a merger is not certain as shareholders may prefer to take the higher offer from Nasdaq should it chose to persist with its bid.
There are also regulatory concerns attached to both bids.
Under the Nasdaq-ICE bid, ICE would have taken over NYSE's derivatives business, while Nasdaq would have taken the stock exchanges and options businesses - thus combining two of the largest US stock exchanges.
The Deutsche Boerse bid itself is also likely to raise regulation issues, as a deal would create a massive presence in certain European financial products.
There is also some political opposition from those against the idea of a foreign company taking over a Wall Street brand.
Related Internet Links
The BBC is not responsible for the content of external sites.