Toyota to suspend North American production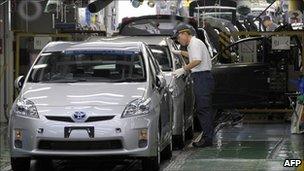 Toyota is to suspend production at its North American plants in five one-day shutdowns this month because supplies of components remain limited.
The Japanese car giant said the move was "due to parts supply difficulties" following the damage caused by earthquake in Japan on 11 March.
All 13 of Toyota's North American plants will be affected.
Last week, Toyota head office said reports it would halt production there were a "total misunderstanding".
That comment came after a US spokesman for the carmaker said a temporary halt was "inevitable" following the damage caused by the earthquake and tsunami in Japan.
Toyota now says vehicle production and almost all North American engine and parts plants will be affected.
The dates of the shutdowns are 15, 18, 21, 22 and 25 April, although manufacturing at the Kentucky factory will not be stopped on 21 April.
Toyota said that no decisions had been made yet regarding production after 25 April.
Production at the company's domestic factories has resumed, although at a reduced capacity.
Factories in Japan will be shut down again between 27 April and 9 May, although that includes the traditional Japanese Golden Week holiday.
Other companies have been affected by supply-chain problems too.
Last week, Honda said it was halving production at its factory in Swindon in the south of England.
And Nissan said it would be suspending its UK production for three days at the end of the month due to a shortfall of parts from Japan.
Related Internet Links
The BBC is not responsible for the content of external sites.