India's industrial production slows down unexpectedly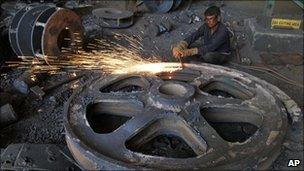 India has reported weaker-than-expected industrial production numbers, dragged down by a slump in capital goods output.
Factory output in India grew by 3.6% in February compared with the same month a year ago, according to the latest figures.
Analysts had expected industrial production to grow by more than 5%.
The numbers were pulled back by an 18.4% fall in capital goods output during the month.
Manufacturing, which accounts for 80% of overall industrial output, rose by just 3.5% in February, compared with growth of 16.1% a year earlier.
However, analysts say that the numbers are not a cause of worry as of yet.
"The fact that IIP has come in lower-than-expected is not surprising, as the high-base effect is still playing a part, especially in the manufacturing sector," said D K Joshi of CRISIL in Mumbai.
"But this should start changing by the time April, May data are due," he added.
Mr Joshi also said that the weak numbers were unlikely to have any impact on the Reserve Bank of India's monetary policy.
"Monetary policy is likely to remain on tightening mode given the inflation pressure and strong private consumption," he said.
"We may see a 25 basis point hike in May from the central bank," Mr Joshi added.