Property market still in the doldrums, say surveyors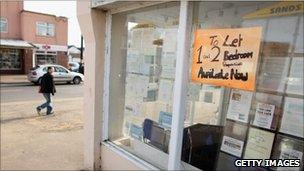 There is no sign yet of the UK property market pulling out of the doldrums, says the Royal Institution of Chartered Surveyors (Rics).
Its latest monthly survey for March shows sales and prices were generally flat, while interest from would-be buyers was declining.
The survey results chime with those of other recent property surveys.
However, Rics said there were big regional differences, with London very different to the rest of the UK.
"The rather negative outlook for property prices across the UK seems to better reflect the general economy than the micro climate of London," said Rics housing spokesperson, Ian Perry.
"The low level of buyer interest in many parts of the UK continues to impact on the market, resulting in some downward pressure on prices.
"With the prospect of forthcoming interest rate rises and continued shortage of mortgage funding, it seems that overall recovery for the national housing market is still some way off," he added.
Although the Rics survey was based on answers from just 259 surveyors who work as estate agents, the survey has traditionally had its finger on the pulse of the market.
The survey found last month that nearly 60% of surveyors reported no change at all in the prices of the properties they had sold.
Where prices had fallen, they were normally just 0%-2% lower than before.
"Within England and Wales, a clear North South divide is emerging, with London being the only region recording rising prices, demonstrating that the capital is still operating under different market conditions to the rest of the country," Rics said.
The generally stagnant nature of the property market was highlighted by the fact that completed sales per surveyor fell to their lowest level for 21 months, at just 14.4 sales in the past three months.
Meanwhile the number of homes for sale also dropped, to 64.6 per surveyor.
The Department for Communities and Local Government says that in February, UK house prices rose by 0.3% during the month.
That left them 0.7% higher than a year ago with the average price put at £204,164.
However, the government's survey suggests that house prices have in fact been falling recently, though only very slowly.
Once seasonal factors are taken into account, in the three months to February house prices were 0.3% lower than in the previous three months.
Related Internet Links
The BBC is not responsible for the content of external sites.