Will Rosneft suffer without its mighty chairman?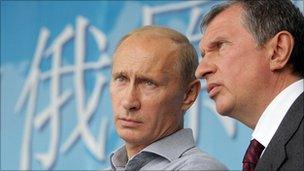 With the the future of the BP-Rosneft Arctic deal in the balance, the Russian state-controlled oil giant has lost its mighty chairman - at least, on paper.
Russian Deputy Prime Minister Igor Sechin stepped down following President Dmitry Medvedev's decision that top officials should leave the boards of 17 state companies.
"With the aim of reducing the excessive influence of state companies on the investment climate it is necessary to... end the practice whereby government bosses, those who answer for the regulatory rules in certain sectors, occupy positions on the board of directors of companies working in conditions of competition," Mr Medvedev said last month.
He himself was the chairman of gas monopoly Gazprom's board for many years before becoming Russia's president in 2008.
Mr Sechin joined Rosneft's board in 2004, and has headed it since 2006.
But Vladimir Kuznetsov, an analyst at UniCredit Securities in Moscow, does not think that Mr Sechin's influence will be weakened with his resignation as board chairman.
Indeed, in his capacity as Deputy Prime Minister, Mr Sechin remains responsible for Russia's oil and gas industry, and sceptics say that nothing will change in how Rosneft is run.
"In reality, state companies are intertwined with the government," says Mr Kuznetsov.
He sees President Medvedev's decision as "pre-election noise", adding that it could be aimed at improving the government's image in the eyes of the West.
Russians are set to vote for the new parliament in December, with the presidential election taking place three months later.
Politicians vs entrepreneurs
But Mattias Westman, a founding partner of Prosperity Capital Management, believes that Mr Medvedev's move is part of a genuine attempt to improve corporate governance in Russia.
He admits that "in general, people would love as little political influence as possible".
Andrei Volkov, dean of the Moscow School of Management, Skolkovo, says that from an investor's perspective, it is "without doubt" better to have independent directors and experienced entrepreneurs run a state company, rather than a minister.
Mr Westman agrees. "Often those with good political contacts are not efficient entrepreneurs," he says.
But Chris Roebuck, visiting professor of Transformational Leadership at Cass Business School in London, says it largely depends on how good the minister is.
"Exactly the same applies to commercial companies - if a chairman has lost touch, the company will suffer the consequences," says Professor Roebuck.
"It is about the quality of the person as the leader of the organisation."
Mr Kuznetsov says that although some business decisions taken by Rosneft could have been politically motivated, the company has been managed quite effectively - but the importance of having Mr Sechin as its chairman should not be overestimated.
"Mr Sechin has not been a member of Gazprom's board, but the company has been doing well," he says.
"So, it is not all about Mr Sechin being Rosneft's chairman that led to this company growing so fast."
There is another advantage Rosneft has enjoyed in becoming the biggest Russian oil company, according to Mr Westman - being state owned.
In particular, Rosneft acquired assets of once-dominant oil company Yukos, sold to pay off huge tax bills imposed after fraud investigations.
Yukos founder and former chief executive Mikhail Khodorkovsky has been behind bars since 2003, and his supporters have said that the tax demands were politically motivated.
Among assets acquired by Rosneft were Yukos's main production units.
But although the state's presence in Russia's economy is greater than in the US or the UK, which "set the bar high", it is far less striking when compared to many other European countries and especially with other developing economies, such as Brazil and China, Mr Westman says.
And Mr Volkov believes that as Russia was introduced to the concept of free economy only some 20 years ago, the government has created state corporations in an attempt to preserve expertise in a number of industries, such as aviation, nuclear power and weapons, where there was no time available to wait for self-regulated markets to form.
"I have no doubt it is a temporary measure," he adds.
But Professor Roebuck points out that there is no unified standard of how much state interference is good or bad for an economy, as it largely depends on the country's business culture and history.
"The Swiss would say that the UK government does not interfere enough, while people in the US would say there is too much state interference in the UK," he says.
And this is where the challenge for Russia and its government lies.
"They need to decide as a society where they want to be on the spectrum which ranges from free market to full state control," says Professor Roebuck.
Related Internet Links
The BBC is not responsible for the content of external sites.