IMF says risks not expected to derail economic recovery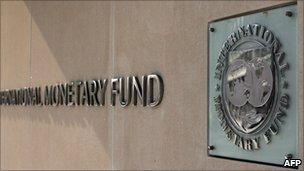 The global economy remains firmly on a path to recovery but threats to growth remain, the International Monetary Fund (IMF) has said.
Among the challenges are rising oil prices, unrest in the Middle East, continued inflation in China and debt problems in Europe.
In a new forecast, the IMF says the global economy should grow by 4.4% in 2011, the same figure given in January.
But the IMF cut its UK growth forecast for 2011 to 1.7% from 2%.
It kept its prediction for UK economic growth in 2012 unchanged at 2.3%.
Meanwhile, it raised its forecast for Germany's GDP growth this year to 2.5% from 2.2%, and its forecast for 2012 rose slightly to 2.1%.
On the global economy the IMF said: "The recovery has solidified, but unemployment remains high."
In its World Economic Outlook report the IMF also said that growth was not strong enough to make a "major dent in high unemployment rates".
And it said that the major risk to growth came from further oil price rises because of supply disruption.
It said the eurozone economy was expected to grow by 1.6% in 2011 and 1.8% the following year, a 0.1 percentage point increase on its January forecast.
It painted a gloomy picture for Portugal's economy, saying it would stay in recession during 2012, with the unemployment rate expected to rise from its current 11.1% to 12.4% by 2012.
Greece and the Irish Republic also faced tricky financial readjustments, it said.
Meanwhile Spain, which has unveiled spending cuts to try to stave off any potential bail-out, will record growth of 0.8% this year and 1.6% in 2012, the IMF said.
Growth in the US was predicted to be 2.8%, down 0.2 percentage points from January, reflecting the effect of higher oil prices.
And the IMF warned about inflation building in Asia's fast-growing economies, cautioning that "boom-like dynamics" should not be allowed to get out of control.
The Washington-based body said if China were to suffer a slowdown - after a credit and property-fuelled boom - it would hurt the entire region.
"Such boom-bust dynamics are also a possibility in other emerging Asian economies," the IMF said.
China, as well as Brazil and India, largely helped to offset the deep downturns in much of the western world between 2007 and 2009 after asset bubbles burst.
But the IMF said: "The challenge for many emerging and some developing economies is to ensure that present boom-like conditions do not develop into overheating over the coming year."
Turning its attention to Japan, the IMF said the effects of the devastating earthquake and tsunami would reduce economic growth only slightly in 2011.
It also said Japan, which has huge levels of government debt, should refocus on fixing public finances when rebuilding after the March disaster gets under way.
Related Internet Links
The BBC is not responsible for the content of external sites.