Alcoa reports strong first quarter profits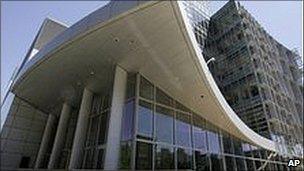 US aluminium-maker Alcoa has reported profits for the first three months of the financial year that came in ahead of analyst estimates.
Net earnings were $308m (£188.4m) for the quarter, compared with a net loss of $201m a year earlier.
The firm was helped by the rising price of aluminium, and continued demand for the product.
The Pittsburgh company said there had been demand from packaging, automotive, transportation and industrial firms.
"Our outlook for the rest of 2011 and beyond remains very positive due to the world's growing population (and) increasing urbanisation," said chairman and chief executive officer Klaus Kleinfeld.
Alcoa is traditionally the first company in the Dow Jones industrial average index to report quarterly earnings.
It is, therefore, seen as something of a barometer for what is to come.
The firm's earnings in the previous quarter had been $258m.
Related Internet Links
The BBC is not responsible for the content of external sites.