Tepco may face $23.6bn in claims, JP Morgan says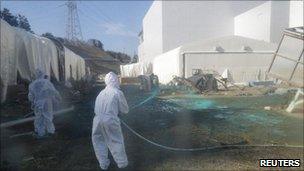 Tokyo Electric Power Company (Tepco) may face as much as 2 trillion yen ($23.6bn; £14.5bn) in compensation claims, according to JP Morgan.
The company has been grappling to contain the radiation leak crisis at its Fukushima Daiichi nuclear plant.
On Tuesday, Japan's Nuclear and Industrial Safety Agency raised the severity of the nuclear crisis at the plant to level 7.
Japan has evacuated people living within a 20km radius of the plant.
The power station was one of the worst hit by the earthquake and tsunami which engulfed much of Japan on 11 March.
As the company struggles to contain the nuclear crisis, its shares have taken a beating on the Tokyo stock exchange.
Tepco shares have lost more than 75% of their value since 11 March, in the process hitting all-time lows.
Investors have been worried about the impact of the current crisis on the company's profit.
While there have been concerns about the huge compensation bill that Tepco may have to face, analysts say a lot will depend on how a law governing these cases is interpreted.
Under Japanese law, operators of a nuclear facility can be waived of any liability if the accident is deemed to have been triggered by a natural disaster of an exceptional character.
Whether the current crisis fits that classification will determine the course for Tepco, analysts say.
"A key issue concerning damage compensation is whether the Fukushima nuclear plant accident is considered an unavoidable natural disaster," said Tomohiro Jikihara of JP Morgan.
The Japanese government is yet to decide whether it will classify the earthquake and tsunami as an exceptional disaster.