India proposes telecom policy changes as scandals hit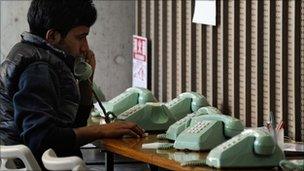 India's telecom minister, Kapil Sibal, has proposed a slew of changes to the country's telecom policy in an attempt to streamline the industry.
He said that merger and acquisition rules will be relaxed to allow consolidation in the sector.
Mr Sibal also indicated that as part of the new policy, the government will separate mobile licences from spectrum fees.
India's telecom sector was rocked by a spectrum allocation scandal last year.
The country's lawmakers are currently investigating whether telecom licenses were sold at cheaper prices in order to favour some companies.
An official audit claimed the government may have lost as much as $39bn (£24bn) in revenues.
The scandal has dented the image of the sector and also created huge political issues in the country.
There have been discussions about making the licensing process and spectrum allocation more transparent.
The Telecom Regulatory Authority of India has also recommended that service providers should be charged a higher fee for use of 2G spectrum.
India is one of the world's fastest growing markets for mobile phone services.
There are currently 15 service operators in the country catering to nearly 800 million subscribers.
As the subscriber base continues to grow and companies look to consolidate, the telecoms minister said he was looking to relax rules in the sector.
"Merger and acquisition guidelines need to be liberal," Mr Sibal said.
Under the current rules, when two service providers merge their combined revenue - or subscriber base - cannot exceed 40% of the total in their region.
Mr Sibal also proposed that telecom licenses in the country should be renewed for a period of 10 years, compared with the 20-year renewal under current rules.