China signs $1.4bn Brazil plane deal to kick off summit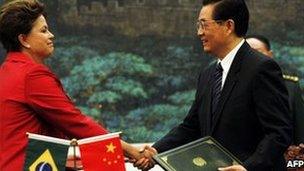 Chinese airlines have placed orders worth $1.4bn (£861m) with Brazilian aircraft manufacturer Embraer.
The deal includes firm orders for 20 planes and an option to buy 15 additional aircraft.
The pact comes as Brazil's President Dilma Rouseff begins her visit to China looking to strengthen trade ties with Beijing.
China is Brazil's biggest trading partner and foreign investor.
China's economic success has seen a surge in demand for air travel within the country.
Embraer has been looking to tap into the fast growing market. The company has been lobbying for permission to start producing its E-jet series of planes in China.
While it may be a long way from starting production in China, orders for the aircraft have started to flow in.
China Southern Airlines and Heibei Airlines each placed orders for 10 Embraer E-190 planes.
These are narrow-body planes which can seat up to 100 passengers.
Trade between China and Brazil has surged in the last 10 years.
Demand for Brazilian natural resources has been increasing in China in the wake of the country's fast-paced economic growth.
China has also made investments in Brazil, and its goods have been flooding the Brazilian markets.
This has led to fears in Brazil that China's growth and investment may hurt domestic businesses.
While concerns in Brazil continue to rise, the South American economy has been pushing for China to make conditions more favourable in order for its businesses to explore opportunities in China.
As the two countries try to boost growth further, China's foreign ministry spokesman Hong Lei said these issues could be addressed by mutual cooperation.
"We believe, with the increasing growth of our respective capacity and through equal dialogue and consultation, relevant issues will be gradually and properly handled," he said.