Hip Hop: The culture of getting rich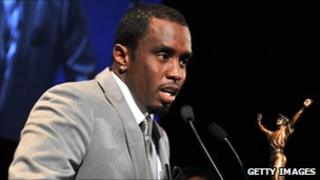 Get Rich or Die Trying was a mantra coined by rapper 50 Cent - who did get rich, seriously rich, and who almost died in the process.
With fluctuating share and property prices, it is impossible to determine exactly how much any artist is worth at any particular moment.
But although 50 Cent's estimated wealth might not surpass that of Sir Paul McCartney, he is able to rub shoulders with the mega-rich music elite such as Sir Elton John, Sir Mick Jagger and Madonna.
Meanwhile, Sean "Diddy" Combs sang the hip hop track All About the Benjamins - referring to the portrait of Benjamin Franklin on $100 bills.
Hip hop music is not all about the Benjamins, but it has generated an enormous amount of them.
The fact that hip hop was largely created and owned by African-Americans has led to some extraordinary claims about how that particular music genre has transformed American society.
Some people even argue that the Obama presidency would not have been possible without hip hop.
Muscling in
Hip hop began in the late 1970s as an urban subculture, initially confined to two of America's most notorious ghettos - Harlem and the South Bronx in New York City.
Since then, however, it has grown into a multi-billion dollar business spanning music, film, television, books, fashion and sports.
And many hip hop stars - Sean "Diddy" Combs and Shawn "Jay-Z" Carter for example - have become music moguls themselves, owning and running huge businesses.
"In order for hip hop to survive long enough to make it into the mainstream, it actually had to develop a business sense," says Dan Charnas, author of The Big Payback.
"Hip hop had to foster entrepreneurship, it had to develop these very powerful external institutions - because nobody else would touch it," he says.
Slow start
Unlike other musical forms that were adopted and championed by the big record labels, hip hop was virtually ignored until 1979, when Rapper's Delight became a worldwide hit.
But it was still five more years before a major label made a big investment in this genre of music and that was when Columbia Records - which was then a division of CBS - gave a distribution deal to a small label based in New York.
The label was Def Jam, created by Rick Rubin and run out of a dormitory room. The label had only issued seven vinyl singles - including releases by LL Cool J and the Beastie Boys.
Def Jam quickly became a huge power in the music industry, and the transcendent hip hop brand.
Acceptance
Even in the 1980s after Michael Jackson's great MTV breakthrough with Thriller, black artists could not get played on pop stations unless they complied with certain media-imposed criteria.
There was a brief moment in the 1960s where AM stations played James Brown and Aretha Franklyn next to the Beatles and the Beach Boys but, after corporations started taking over FM stations in the 1970s, there was a huge separation and segmentation of audiences.
That led to what could be called the disco backlash in the late 1970s.
"In 1979, there were only two black artists in the top 10 of the Billboard singles chart in America. And in 2002, in a similar week, all 10 pop artists in America were black artists," says Mr Charnas.
It was then apparent to everyone that hip hop had created a huge social and cultural change in America.
Building empires
That change also created some of the richest black people in America, some of whom evolved into great moguls of the hip hop music scene.
"What Shawn 'Jay-Z' Carter, Sean 'Diddy' Combs and Curtis '50 Cent' Jackson said, was, 'If Time Warner can own music, why can't I?'" says Mr Charnas.
That was something hip hop artists learned to do - with the same ruthless determination that had enabled them to survive the rugged urban environment of their youth.
They learned to drive a harder bargain, and hip hop created more entrepreneurs and artists who owned more of their own work than any other genre previously.
Mr Charnas says you cannot compare what R&B and soul did in the 1960s to what hip hop entrepreneurs were able to do in the 1990s and the first decade of this century.
Brand awareness
Hip hop went way beyond just music - it expanded into numerous other business areas.
"Run DMC were very brand-conscious - they wrote a song about Adidas because they love Adidas, and the endorsement deal came afterwards," Mr Charnas says.
It went from hip hop artists seeking endorsement deals to basically creating their own brands, such as Wu Tang Clan creating Woo Wear and 50 Cent manufacturing his G-Unit clothing.
"You now have these power houses like Rocawear and Sean Jean, almost pushing aside folks like Nautica and Ralph Lauren Polo for space in the young man's and young woman's department stores across America and indeed, across the world," he says.
Lucrative deals
One of the genre's most lucrative financial investments came when 50 Cent negotiated a minority stake in Vitamin Water in return for acting as a celebrity spokesman and lending his name to the Formula 50 drink.
When The Coca Cola Company acquired Vitamin Water from Glaceau for $4.1bn (£2.5bn), bankers familiar with the deal said 50 Cent's profit ranged from $100m to $150m.
If you combine that windfall with record sales, concerts, clothing, merchandise, endorsements, acting, video games and investments in property, dietary supplements, moisturisers, and even his own brand of condoms to promote safe sex among his younger fans, it is safe to assume 50 Cent's dream of earning his next $500m is within the realms of reality.
He even published a book entitled The 50th Law, which explains how his personal philosophy and self-confidence reversed the fortunes of his humble beginnings.
Producer and fellow rapper Pharrell Williams certainly seems to have named his clothing line most appropriately - the Billionaire Boys Club.