Business troubles rise as consumer confidence falls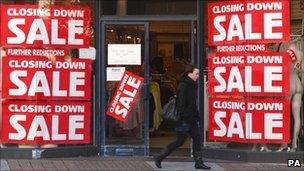 The number of UK firms showing signs of serious financial problems is growing as customers tighten their belts, says a report by corporate recovery experts.
Begbies Traynor reports a 15% rise in firms suffering "significant" or "critical" financial distress in the first quarter of 2011 over last year.
The leisure sector was particularly badly hit, according to the report.
Begbies attributed part of the rise to people cutting discretionary spending in the face of anticipated job losses.
The worst-hit sector was bars and restuarants, where businesses facing difficult financial issues rose 68% compared with the same period in 2010.
Leisure and culture, and sport and recreation suffered rises of 60% and 23%.
Professional services was also badly hit, with a 61% increase in companies in trouble.
The report said a "significant number" of public-sector staff would have received formal notice of redundancy, which it said would have had an impact on discretionary consumer spending.
Begbies executive chairman Ric Traynor said: "Compared with our figures for food retail, which show little change, it seems likely that a fall in consumer confidence and spending power, driven by anticipated job losses, lies at the core of the leisure sector's troubles."
And he warned: "Over 15,000 firms in the professional services sector are showing signs of significant or critical problems - partly driven by a stale property- and corporate-deals market - often the drivers for an active professional services community."
Mr Traynor said firms that operated with a high fixed-cost base were finding current market conditions increasingly difficult.
Related Internet Links
The BBC is not responsible for the content of external sites.