South Korea raises inflation forecast as prices rise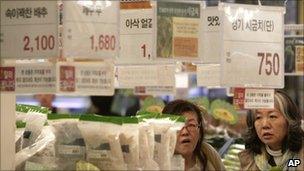 South Korea has raised its inflation forecast for the current year, as global food and oil prices continue to remain volatile.
The Bank of Korea said that consumer prices in the country were likely to rise by 3.9% this year, compared to its earlier forecast of a 3.5% rise.
South Korea's inflation rate hit a 29-month high in March, with prices rising 4.7% from the same month a year ago.
South Korea is Asia's fourth-biggest economy.
The country has been taking steps to keep price rises under check. Last week it had indicated it may consider cutting the tax on fuel in order to offset rising oil prices.
Analysts say the increased forecast shows that the central bank has considered the various options it can use in its fight against inflation.
"It seems to take into account the central bank's interest rate policy, government administrative steps such as a possible oil tax cut, and foreign exchange rate policy," said Lee Sung-kwon of Shinhan Investment Corp.
Despite raising its inflation forecast, the central bank has maintained its growth projection for the economy at 4.5% for this year.