Rio Tinto's production hit by Australian cyclone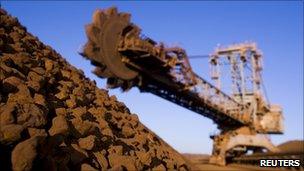 Rio Tinto, one of the world's biggest mining companies, has said extreme weather in Australia hit production in the first quarter of the year.
The company said that coal, iron ore, uranium and alumina production had all been disrupted in the first three months of the year, but most were recovering.
It added that these were also benefiting from strong prices.
Rio said that that full-year production of most commodities would meet targets.
Global iron ore production which is used for steel-making, was down 3% in the first quarter of 2011, compared with a year ago.
Production of hard coking coal, also used in steel-making, fell by 12% over the same period.
The main coking-coal region is north-east Australia, the region most affected by the extreme weather.
Copper output was worse hit - down by 14% on the same period last year.
Over the same time frame, alumina production was down by 4%.
In a statement, Rio Tinto's chief executive, Tom Albanese, said: "Our Australian coal, iron ore, uranium and alumina operations were affected by the extreme weather in the first quarter, but most are recovering and are benefiting from continued strong prices."
Rio, like other commodities producers, has benefited from strong demand from fast-growing emerging markets, particularly China.
Its latest annual profits nearly tripled on the back of high commodity prices and strong demand.
The Anglo-Australian company reported net profits of $14.3bn (£8.9bn) for 2010, up from $4.9bn in 2009.
Related Internet Links
The BBC is not responsible for the content of external sites.