Asos overseas sales overtake UK sales for first time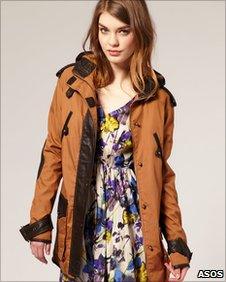 Online fashion retailer Asos has said that overseas sales have overtaken those in the UK for the first time.
In the three months to the end of March, international sales rose 161% to £48.4m compared with a year ago. UK sales were up 24% to £44.9m.
Asos has reported strong results in recent years and is bucking the current downbeat retail trend in the UK.
The British Retail Consortium said on Tuesday that retail sales in March had seen their worst fall since 1996.
For the full year, Asos said UK sales were up 24% while international sales rose 144%.
The company said it expected profit for the year ahead to be "towards the top end of expectations".
Unlike many retailers who have expressed caution in their forward-looking statements, Asos chief executive Nick Robertson said the group had approached the new financial year with "confidence" and was "excited" about its prospects.
Shares in Asos rose 14% to close at 1,950p.
Nick Bubb, a retail analyst at Arden Partners, was impressed with the results, describing the UK performance as resilient and its international sales growth as "mind-blowing".
"We have to take our hats off to Asos and acknowledge that its burgeoning global expansion is likely to continue to attract a big fan club," he said.
Related Internet Links
The BBC is not responsible for the content of external sites.