How could changes to the state pension affect you?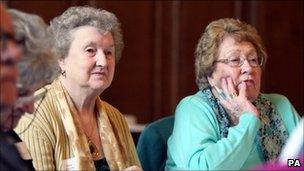 With some eye-catching headlines, the government has published a green paper entitled "A state pension for the 21st century".
This has started the government's consultation on providing a flat-rate state pension of around £140 a week.
So how will this work and how does it compare with the current level of state pensions?
How will you be affected if you are already making your own provision through a personal pension or company arrangement?
The current state pension system is extremely complicated.
There is the flat-rate basic state pension (BSP), which is currently £102.15 a week for a single person.
There is also the earnings related state second pension (S2P), currently in the process of becoming flat-rate by the 2030s.
In addition there is the pension credit, which is a means tested top-up consisting of a guarantee credit and a savings credit, intended to ensure a minimum level of income of £137.35 a week in retirement.
Achieving the £140 per week target
The government wants to simplify the current system, but has not yet decided how to achieve this.
So it is consulting on two options.
The first takes the existing planned changes to S2P and accelerates them to make it flat-rate by 2020.
Under the second option the state pension system would be completely overhauled, with BSP and S2P being replaced with a single-tier flat-rate pension.
This would be set at a level above the pension credit standard minimum guarantee.
The green paper estimates that a flat-rate pension of around £140 a week would be cost neutral.
Company and private pensions
Company and private pensions sit alongside the state provision but if you are contracted out you earn very little, if any, S2P.
Contracting out is the process whereby employees and sponsors pay reduced national insurance (NI) contributions in return for a lower level of S2P.
Depending on the scheme you have joined you receive a rebate on your earnings over £5,304 and up to £40,040 a year and so does your employer.
The employer share of the rebate then gets paid into your pension scheme to form part of your pot or to help towards the cost of the benefits provided under a defined benefit scheme.
Under the second option, if S2P ceases to exist for everyone, then contracting out will have to cease.
This is significant because in 2009, of the 3.3 million active members of private sector pension schemes, 2.3 million were contracted out.
Nearly all of the 5.4 million active members of the public sector pension schemes were also contracted out.
So you can see that the majority of people who are in, or have been in, a pension scheme in the last 30 years, will be affected if contracting out is stopped.
How might employers react?
The immediate impact of the end of contracting out would mean that both employees and sponsors of contracted out schemes would see their NI contributions increase.
Based on the new level of NI contributions coming into effect from April 2012, this would mean an increase of 1.4% for employees and 3.4% for employers, on earnings over £5,304 and up to £40,040 a year.
Some employers may not be prepared to meet this additional cost and so are likely to consider reducing scheme benefits for future accrual.
Faced with making yet further changes to their defined benefit schemes, some employers may even consider closing their schemes entirely.
It could, however, be seen as the opportunity for the sponsoring employers to redesign the schemes.
No longer having to meet a minimum level of benefits required by contracting out would make them more affordable while still giving employees a defined benefit pension.
From a public sector perspective, now is probably a good time to grasp this particular nettle.
The reforms proposed by the Hutton Commission may provide a useful opportunity to end contracting out for the public sector.
What about past NI contributions?
Even if contracting out were to stop immediately, its impact will still be felt in years to come.
Anybody who has been contracted out at some point in their life will have their single flat-rate state pension reduced, to reflect the fact that they paid lower NI contributions.
The government estimates that in 2050, around half the people receiving their state pension would have it reduced for the contracting out offset.
The government has not set out how it would calculate this offset but does give an example.
It considers a person who was contracted out through an employer's defined benefit plan some time between 1978 and 1997.
That person has built up a guaranteed minimum pension (GMP) of £40 per week which is designed to reflect the S2P foregone by contracting out.
If the state pension was worth £177.60 a week at their state pension age, this would be reduced by the £40 to £137.60 a week.
There is no mention of how any offset might be worked out if you have been in a contracted-out defined benefit scheme for service after 1997, when GMPs ceased to exist.
Nor is it clear how they propose to allow for defined contribution contracting out.
Under these arrangements, employees invested the NI rebate in a personal pension arrangement and the sum at retirement will depend on the investment returns achieved.
How the government allows for these types of benefits will be very interesting to see, as will the question of how far the government might go in offsetting the contracted-out rights, given that they may be of similar magnitude to the full state pension.
It will be a considerable challenge to ensure that future pensioners are not left disgruntled about decisions they have made in respect of contracting out.
The opinions expressed are those of the author and are not held by the BBC unless specifically stated. The material is for general information only and does not constitute investment, tax, legal or other form of advice. You should not rely on this information to make (or refrain from making) any decisions. Links to external sites are for information only and do not constitute endorsement. Always obtain independent, professional advice for your own particular situation.
Related Internet Links
The BBC is not responsible for the content of external sites.