Car insurance costs still rising fast, AA says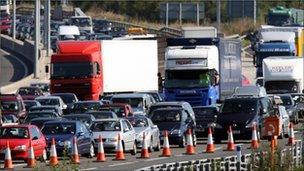 The cost of car insurance is rising at the fastest rate on record, according to the AA.
Its index of insurance costs suggests that car insurance premiums have shot up by 40% in the past 12 months.
The average premium for an annual comprehensive car policy is now £892, with third party, fire and theft policies, usually taken by high-risk younger drivers, now costing £1,533.
However, the AA said it expected the rate of increase to tail off this year.
Simon Douglas, director of AA Insurance, said rising premiums were making driving unaffordable for many younger drivers.
"This is leading to more people withholding information when taking out a policy or exaggerating personal injury claims to try to reduce their costs," he said.
"But this simply piles on costs for insurers and results in yet higher premiums for honest motorists."
Related Internet Links
The BBC is not responsible for the content of external sites.