JP Morgan profits rise to $5.6bn in first quarter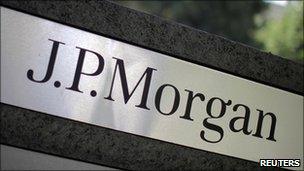 Wall Street giant JP Morgan Chase has seen a rise in first-quarter profits, helped by an improved performance in its credit card business.
The second-largest US bank announced profits of $5.6bn (£3.4bn) for the three months to the end of March, up from the $3.3bn it made a year ago.
Its card services unit made a $1.3bn profit, compared with a loss of $303m in the first quarter of 2010.
Analysts said the bank's results were ahead of estimates.
Other US banks are due to report this week and JP Morgan's figures have raised expectations that its rivals' earnings will also be strong.
The single largest generator of income for JP Morgan is the investment bank, which made a profit of $2.37bn in the quarter, although this was down 4% on the year.
The bank also set aside much less to cover bad loans, with provisions for credit losses falling to $1.17bn from $7bn a year earlier.
But chief executive Jamie Dimon said the bank was still bearing "extraordinarily high losses" on mortgage-related issues.
Its mortgage and consumer lending arm made a loss of $937m, compared with a profit of $257m a year ago, as a result of lower fees and higher servicing costs.
"Unfortunately, these losses will continue for a while," Mr Dimon said.
'Banking's Michael Jordan'
JP Morgan did not make a loss at any point in the financial crisis and Mr Dimon is often credited with skilfully steering the bank through the depths of the crisis.
Michael Holland, founder of private investment firm Holland & Co, was full of praise for the chief executive.
"Jamie Dimon does it again. This is the fifth consecutive quarter they've beaten estimates," he said.
"He's kind of like Michael Jordan in his prime in basketball. The expectations are higher than anyone else and he keeps exceeding those expectations."
But Adrian Cronje, from wealth management firm Balentine, was more circumspect.
"The key is loan growth," he said. "That's what will ultimately turn this recovery into a durable expansion, but it seems like that's not yet happening."
Loans on the bank's books fell 4% to $686bn, indicating that demand for loans is being outstripped by how quickly existing lending is being repaid.
Related Internet Links
The BBC is not responsible for the content of external sites.