Bmibaby to stop flying from Cardiff and Manchester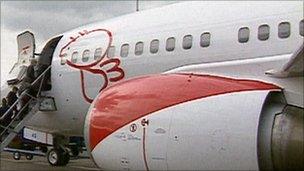 Low-cost airline Bmibaby has announced it will cease flying from Cardiff and Manchester airports from the end of this summer.
The airline said it needed to focus on its more established routes during the current economic climate.
As a result, four Bmibaby planes will be redeployed to Belfast, East Midlands and Birmingham airports.
Bmibaby's parent British Midland International (BMI) has recently been taken over by Germany's Lufthansa.
The airline said most of its staff at the two airports would be redeployed.
Sixty-nine positions at Cardiff would hopefully move to new locations, while 64 of the 97 positions at Manchester would be redeployed, the company said.
The airline currently operates 40 flights a week out of Manchester and 30 a week from Cardiff to European destinations.
It added that BMI would maintain a "significant presence" at Manchester airport.
Bmibaby also said it was introducing seven new routes from Belfast, and two new routes from East Midlands airport.
The airline operates 14 Boeing 737s.
Related Internet Links
The BBC is not responsible for the content of external sites.