IMF calls on European banks to boost their finances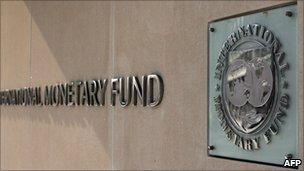 Many European banks need bigger capital cushions to stop them being a risk to the global financial system and precipitating another crisis, the International Monetary Fund (IMF) says.
Such banks are "caught in a maelstrom of interlinked pressures" the IMF said.
The low levels of capital make some German banks, as well as weak Italian, Portuguese and Spanish savings banks, "vulnerable to further shocks".
But it said global financial stability had improved in the past half year.
The findings came in the IMF's Global Financial Stability Report.
"Remaining structural weaknesses and vulnerabilities in the euro area still pose significant downside risks if not addressed comprehensively," it said.
The IMF also warned of an impending funding challenge for banks and nations still grappling to come to terms with sovereign debt problems - "particularly in some vulnerable euro area countries".
The IMF said that US banks built up capital in 2009, after regulators completed stress tests that revealed some large holes.
But European banks still need to raise a "significant amount of capital" to regain access to funding markets.
And, overall, banks globally face a $3.6tn (£2.2tn) "wall of maturing debt" coming due in the next two years, with banks in the Irish Republic and Germany facing particular pressures.
The IMF also said that, among advanced economies during 2011, Japan and the US faced the largest public debt pressures.
"While the United States and Japan continue to benefit from low current (borrowing) rates, both are very sensitive to a potential rise in funding costs," it said.
Related Internet Links
The BBC is not responsible for the content of external sites.