BP talks with Russian partner AAR 'close to collapse'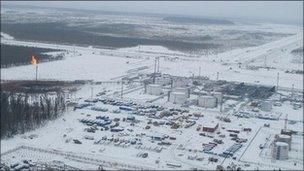 Talks between BP and AAR about the British oil firm buying out its Russian partner in joint venture TNK-BP "have now more-or-less collapsed", says BBC business editor Robert Peston.
It comes as a deadline for BP to complete a $16bn (£10bn) share swap with Russian oil giant Rosneft looms.
The Russian billionaire shareholders of TNK-BP have argued that the Rosneft tie-up breaks promises BP made to them.
In a bid to placate AAR, BP offered to purchase its 50% holding in TNK-BP.
However our correspondent says "a BP source said AAR put an impossibly high valuation on TNK-BP of around $70bn, which would value the oligarchs' stake at more than $35bn".
He added that "BP was prepared, jointly with Rosneft, to pay something over $25bn for their stake, on the basis that TNK-BP is worth more than $50bn".
"Another stumbling block was that AAR wanted payment to be in BP and Rosneft shares - and both companies decided that they did not want the AAR oligarchs to become substantial shareholders in their companies," Mr Peston added.
The controversial deal with its Russian state-owned Rosneft was signed in January, in order to exploit potentially huge deposits of oil and gas in Russia's Arctic shelf.
As part of the deal, the pair had agreed that Rosneft would take 5% of BP's shares in exchange for approximately 9.5% of Rosneft's shares.
It is this share exchange that is said to have particularly upset TNK-BP's Russian shareholders.
The AAR consortium won a High Court injunction in London in February that put the BP-Rosneft deal on hold until the dispute could be resolved by arbitration.
In March an arbitration panel upheld AAR's complaint.
A later arbitration hearing this month gave BP time to try to extend the 14 April deadline for the Rosneft pact to be sealed.
However that Thursday deadline, which coincides with BP's annual shareholder meeting, has not yet been extended by Rosneft.
An executive close to the billionaires who make up AAR pointed out to our business editor that the proposed deal with Rosneft - which initially included an agreement to explore for oil in the Russian Arctic - was blocked by rulings given in the High Court in London and by the independent Stockholm tribunal, on the grounds that BP had violated its shareholder agreement with AAR. 
An AAR source said: "It is up to BP to make a sensible proposal to get out of the mess it has created. One has not been forthcoming."
He added: "AAR's position has always been clear - AAR wanted the entire Rosneft deal turned over to TNK, not some selected parts… They now face the consequences of their actions."
Our correspondent says AAR is now preparing legal action against BP, two BP appointees to the TNK-BP board and the BP chief executive, Bob Dudley, alleging they had damaged the interests of TNK-BP.
However, Stan Polovets, chief executive of AAR, told the BBC that "AAR is a long-term strategic investor in TNK-BP and has no plans to exit".
Related Internet Links
The BBC is not responsible for the content of external sites.