MGM agrees a deal to control its Macau casino venture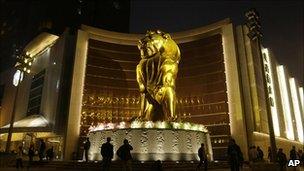 MGM Resorts International has reached a deal with its partner Pansy Ho to take a controlling stake in their Macau casino joint venture.
They have also agreed to an Initial Public Offering (IPO) of some of its shares on the Hong Kong Stock Exchange
Under the deal, MGM will get a 51% stake in the IPO, Pansy Ho will receive 29% of the shares and the remainder will be sold to investors.
The two partners currently each hold 50% of the venture.
MGM owns some of the biggest casinos in the US, while Pansy Ho is the daughter of Macau mogul Stanley Ho, the largest casino operator in Macau.
No date has yet been finalised for the launch of the IPO.
MGM shares surged by more than 8% in New York.
Once it becomes the majority shareholder, MGM will be able to include the revenue and profit from its Macau operation in its balance sheet.
Gaming revenues in Macau have soared. Last year it reported at 57% rise, with total revenue of $23.5bn (£15.2bn).
Only six companies have licenses to operate casinos in Macau.
Analysts say they are expecting a big impact on MGM's earnings once the deal has been finalised.
"The market likes it," said Chris Jones of Telsey Advisory Group
"Macau is very strong, and it will now be a more meaningful contributor to MGM's results," he added.