Glencore flotation to raise up to $11bn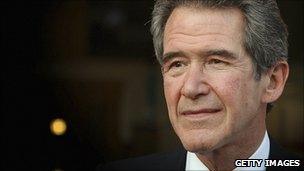 Glencore, the world's largest commodities trading firm, has announced its intention to raise $9bn-$11bn (£5.5bn-£6.7bn) on the London and Hong Kong stock exchanges.
The flotation will be London's biggest on record and make Glencore one of the largest firms on the FTSE 100 index.
The firm also announced the appointment of Simon Murray as chairman.
Earlier, talks with former BP boss Lord Browne over taking the position broke down, the BBC's Robert Peston said.
Mr Murray is a former managing director of the Asian conglomerate Hutchison Whampoa.
Glencore employs about 57,500 people across more than 40 countries and is the world's largest commodities trader, with net income of $3.8bn on revenues of $145bn last year.
It trades metals and minerals, as well as energy and agricultural products, and has benefited from the recent growth in demand for commodities, especially from China.
A number of commodity prices have hit or approached record highs.
Glencore, based in Switzerland, said the listings would give it the flexibility to achieve "sustainable growth".
The sale could value the company at up to $73bn.
Founded in 1974, Glencore is currently owned by 485 partners, all of whom stand to earn tens of millions of dollars from the sale.
However, they will be prevented from cashing in their shares for an undisclosed period of time.
Glencore said it would use the proceeds from the share sale to help pay for increasing its stake in zinc producer Kazzinc, for expansion projects over the next five years and to repay debt.
It said it expected to be the first company in 25 years to enter London's FTSE 100 on the first day of trading.
Chief executive Ivan Glasenberg said: "An IPO is the next logical step in our development and strategy.
"It will provide us with the financial flexibility to capitalise upon long-term growth opportunities throughout our business and achieve further sustainable growth."
Although the offering would be the largest on record in London, in global terms it is dwarfed by the share sale by US car giant General Motors last November that raised $20.1bn, the biggest in US history.
Related Internet Links
The BBC is not responsible for the content of external sites.