Goldman Sachs accused of misleading investors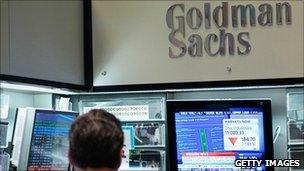 A US Senate probe says Goldman Sachs misled investors selling mortgage-backed investments it knew would fail.
The Senate Permanent Subcommittee on Investigations has spent two years looking at the behaviour of Wall Street banks at the time of the credit crisis.
It said Goldman had also misled Congress in a testimony given in 2010.
A Goldman Sachs spokesman said the testimony given by its executives had been "truthful and accurate", and the bank took the issues raised seriously.
On Wednesday, the Senate subcommittee said it had found "a variety of troubling and sometimes abusive practices" by banks in 2007 as the credit crisis began.
The report said that Goldman marketed four sets of complex mortgage securities to banks and other investors, but failed to tell them the investments were very risky.
In addition, the report said the bank did not mention that it was itself betting that the investments' value would fall, indicating it sold products to clients it did not believe in backing itself.
Carl Levin, the Democrat who heads the subcommittee, told a press briefing that Goldman had "exploited" clients.
Goldman Sachs spokesman Michael DuVally said that while the company disagreed with many of the report's conclusions, "we take seriously the issues explored by the subcommittee".
"We recently issued the results of a comprehensive examination of our business standards and practices, and committed to making significant changes," Mr DuVally said.
Goldman has already paid $550m (£337m) - without admitting or denying wrongdoing - to settle civil fraud charges over similar accusations relating to a large deal known as Abacus.
Senator Levin said on Wednesday the subcommittee had found new evidence that showed Goldman's misleading of investors went beyond that case.
He also raised doubts about the testimony given last year by a number of Goldman executives.
The US regulator the Securities and Exchange Commission (SEC) said at that time that Goldman had acknowledged that marketing material contained "incomplete information".
Senator Levin and his panel's report did not accuse the bank of illegal behaviour, but he said regulators at the SEC or the Department of Justice could take the investigation further.
Related Internet Links
The BBC is not responsible for the content of external sites.