Bank of Ireland's 2010 losses narrow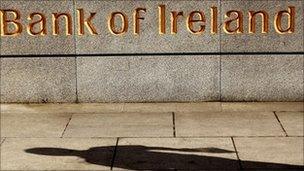 Bank of Ireland has seen its net loss for 2010 fall to 609m euros, (£544m; $809m) after negotiating debt write-downs from its bondholders.
The results came as a surprise to analysts, who had forecast at least double those losses in line with the wider problems in Dublin's banking sector.
Bank of Ireland's 2009 loss was almost three times as high at 1.76bn euros.
The bank is currently trying to stay out of total government control.
The government is Bank of Ireland's biggest shareholder with a 36% stake.
If the bank can raise 4.2bn euros in the coming months it will be deemed strong enough to stand alone.
Bank of Ireland chief executive Richie Boucher said the bank was seeking foreign investors for help.
The bank is shaping up to be the strongest survivor of the Irish Republic's banking crisis.
Years of over generous lending, largely for property development, proved unsustainable and led to a 70bn euro support package backed by fellow European partners and the International Monetary Fund.
Its once-bigger rival, Allied Irish Banks (AIB), is so weakened by the Irish banking crisis it is 93%-owned by the Irish state.
Earlier this week, AIB reported a 10.4bn euro loss for 2010. It needs to raise 13bn euros, three times the amount the Bank of Ireland needs.
Bank of Ireland made a series of bilateral deals with bondholders in 2010 that delivered some debt write-downs and longer-term repayment terms.
Its bad debt write-offs were lower than in 2009, although mortgage arrears had risen. The bank said 4.2% of its Irish mortgages were at least three months in arrears by the end of 2010, up from 2.8% a year earlier.
The Bank of Ireland also recorded nearly 2.5bn in 2010 losses on its state-ordered sale of property-based loans and assets to the Irish Republic's so-called "bad bank", National Asset Management Agency.
Related Internet Links
The BBC is not responsible for the content of external sites.