Cheque abolition to be examined by MPs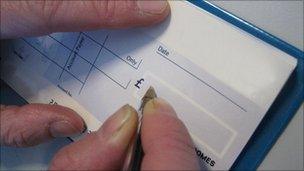 Plans by banks to eventually phase out the use of cheques are going to be re-examined by a committee of MPs.
The Treasury Committee said it would reopen its enquiry because of continued public disquiet.
The banking industry said in 2009 that cheques would stop being used by 2018, if suitable alternatives had been developed in time.
It has since been confirmed that cheques will only go if a suitable paper-based alternative is created.
The committee's chairman Andrew Tyrie said he was not convinced that the use of cheques was in terminal decline.
"The Payments Council has seemingly forgotten about the millions of people who are less at ease with the latest technology," he said.
"We have been inundated by letters from the public telling us that they rely on cheques," he added.
Dr Ros Altmann, director-general of Saga, gave the MPs' decision a warm welcome.
"This will be very popular with older people, many of whom have written to us expressing their concerns that they will not be able to manage without cheques," she said.
"Many of the over-50s find the convenience of writing cheques is very important to them for managing and organising their finances and keeping track of their dwindling pensions and savings income."
Sarah Brooks at Consumer Focus, said: "Not everyone has internet access, can easily get to cash machines or is willing to pay by credit card or share their bank details to organise electronic payments."
"Although cheques are used less now they should only be phased out if there are proven alternatives that consider the needs of everyone who uses them."
Richard North, chairman of the banking industry's Payments Council, said he would be happy to talk to the MPs.
"This inquiry enables us to reassure consumers and businesses that cheques will not disappear unless we deliver on our commitments to make sure that acceptable alternatives are in place and available," he said.
Related Internet Links
The BBC is not responsible for the content of external sites.