Ford expands F-150 pick-up truck recall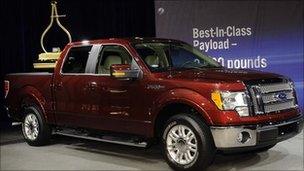 Ford is expanding a recall of the top-selling US vehicle, the F-150 pick-up, to include nearly 1.2 million trucks.
In February, the company agreed to recall more than 150,000 of the trucks, which have a possible air bag defect.
The recall covers models built between 2004 and 2006.
US safety regulators said that Ford would add to the recall because a wiring fault could cause the airbag warning lamp to turn on and the airbag to deploy.
Ford said it was not aware of any accidents caused by the fault, although the safety agency, the US National Highway Traffic Safety Administration (NHTSA) said it knew of 269 cases in which the air bags deployed inadvertently, resulting in 98 injuries, some serious.
"We urge all of our customers to seek service immediately for an airbag warning lamp that is illuminated," the company said.
Dealers will replace an air bag wire in the steering wheel in affected vehicles, a process that takes less than a half day, according to Ford.
Ford made production changes to the trucks in 2006 and 2007 to fix the air bag wiring and other issues.
The NHTSA said the recall also included an unspecified number of Lincoln Mark LT vehicles from 2006.
The expanded recall comes after talks between the carmaker and the safety regulators in Washington.
The NHTSA welcomed the move. "We are pleased that Ford shares our commitment to safety and is taking action to protect consumers," it said.
Related Internet Links
The BBC is not responsible for the content of external sites.