Bank of Japan says the economy will grow from July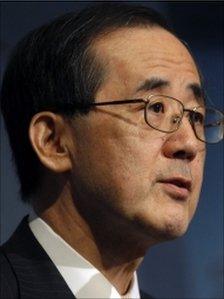 The governor of the Bank of Japan has said the economy will expand between July and September this year as the country rebuilds itself following the earthquake and tsunami.
"Most private economists believe that Japan's GDP growth rate will turn positive again in the third quarter of 2011 onwards," Masaaki Shirakawa said.
He also said Japan would not have trouble financing the reconstruction.
The economy is expected to contract between April and June.
The two disasters on 11 March have left 28,000 people dead or missing.
The nuclear safety crisis triggered by the earthquake and tsunami has disrupted supply chains.
Manufacturers are facing electricity shortages going into the peak summer season.
The International Monetary Fund (IMF) has downgraded its predictions for Japan's economy.
The IMF said it expected Japan's economy to grow by 1.4% this year, compared with a previous forecast of 1.6%.
However, it raised its forecast for Japan's growth next year to 2.1%, saying it was confident Japan would recover from the disaster.
Related Internet Links
The BBC is not responsible for the content of external sites.