Zimbabwe rewinds its musical technology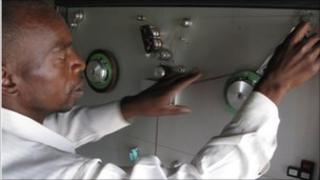 Diamond Studios in Zimbabwe is operating one of the few commercial music cassette production facilities in the world.
Many people from the younger generation, who listen to music on an MP3 player, probably have no idea what a music cassette is.
Seen by consumers as unreliable and inconvenient, with poor sound quality, cassettes began a dip into obscurity, followed shortly afterwards by vinyl records, in the 1990s.
But the humble cassette is still alive and well in parts of southern Africa. And in Harare, Diamond Studios has opened to serve the demand.
Financial advantage
It has installed a machine that produces cassettes, and has contracts with several leading artists, from both Zimbabwe and Botswana.
There are three stages in the process of producing a cassette.
A computer copies the master recording of the music to reels of cassette tape, which go into a duplicator
A machine winds the tape into empty cassette shells
The name of the album is printed onto the shells
John Muroyi, the marketing executive of the studios, says the production cost of a cassette is 65 US cents (40p), whereas for a compact disc (CD) it would be $1.15.
The wholesale price for a cassette is $2 and for a CD it is $4, which means the consumer ends up paying about $7 for a CD and $5 dollars for a cassette.
And 60% of Diamond Studios' customers choose cassettes over CDs.
Robust format
"Cassettes are still going strong because they are more durable than CDs," says Mr Muroyi.
In the Diamond Studios' music shop in Harare's city centre, a middle-aged customer agrees with him.
Apart from the fact that he cannot afford to buy original recordings on CD, he is critical about how easily they can be damaged.
"Children play with the CDs and they can so easily get scratched," he says.
"I have had some of my cassettes for more than 10 years and I am still playing them. So for durability it is better for me to have a cassette than a CD."
Rural market
The shelves in the record shop have a display of cassettes sitting proudly alongside CDs.
The number of people buying them proves that there is still a significant market for cassettes.
However, it is hard to determine the size of the overall market in a country where there is much copyright piracy. And those Zimbabweans who do buy music tend to gravitate towards the illegal copies of CDs sold on the streets.
The biggest market for cassettes is normally found outside the towns.
"Most of the people in rural areas still have old audio cassette players, while even the new radios being manufactured incorporate a cassette player," Mr Muroyi says.
"And most of the old Japanese cars which are being imported into Zimbabwe have cassette players in them."
Fortunately for Mr Muroyi, there is also a big market outside of Zimbabwe.
"Botswana is still using cassettes," he says, "and we have a significant trade with that country."
Replacement problem
Mr Muroyi is confident that Diamond Studios' investment in the cassette plant will pay off - but with the cassette rapidly becoming extinct in most parts of the world, his main problem is accessing resources.
"It is very difficult for us at the moment, especially getting hold of the raw materials for the cassettes," he says.
"The raw materials are imported from China - the only country making them, while a company in South Africa is distributing them."
He is also faced with a potentially serious problem with the machinery because it is becoming increasingly difficult, with such an outdated technology, to find spare parts.
"People think there is no market for cassettes - but there is for us," Mr Muroyi says, "and people will still be buying cassettes for another 20 years."