Cash buyers drive the housing market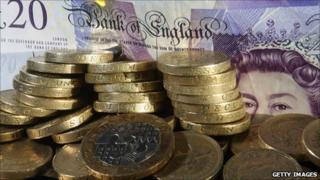 There has been a huge rise in the proportion of home buyers paying for their new homes in cash.
Figures compiled by the Council of Mortgage Lenders (CML) show that in January 2011, nearly 40% of buyers did not need a loan to buy their home.
This means the proportion of cash buyers has more than doubled since 2005, when the records began.
This in turn suggests the market is increasingly the domain of the cash-rich, with many other buyers shut out.
Saga generation
Robert Bartlett, the chief executive of Chesterton Humberts estate agency, says the number of cash deals being done in the housing market is historically high.
"In certain regions, the proportion of cash buyers will be even higher than these figures suggest," he says.
"For example, in south-west England, I would say it is probably more like 50 to 55%.
"In some areas of London, it can be up to 80%," he adds.
The people driving this trend are "typically the Saga generation", according to independent housing expert Henry Pryor.
"They are downsizing and pocketing a profit from previous housing booms, divorcees benefiting from financial settlements and foreigners or expats returning to the UK," he says.
He believes cash buyers are investing in property because they see it as one of the few investments which they can make money from and use at the same time.
"Putting the money in a bank account may be safe, but you will get a woeful return on it, while stocks and shares look like the two ugly sisters - leaving property as the Cinderella of the investment world," Mr Pryor says.
Increasing dominance
The CML estimates the total number of cash buyers in the market.
It compares its own lending figures with those from HM Revenue and Customs (HMRC), which records the total number of house sales over the same period.
This analysis shows that the total number of cash deals has been rising sharply since 2005.
As lenders have tightened their loan criteria and asked for bigger deposits from borrowers, cash buyers have become an increasingly big force in the market.
In April 2005, when the figures begin, 16,457 homes were sold to cash buyers, equivalent to 15% of the market.
In January 2011, the latest figure, there were 27,600 cash transactions, equivalent to nearly 40% of the market.
Buy-to-let
Teaching assistant Teresa Taylor, aged 54, paid £113,000 in cash for a two-bedroom apartment in Ashford, Kent.
She plans to rent the flat out so she has an income from it when she retires.
Ms Taylor is confident in her investment despite the recent fall in house prices.
"We've seen it all before and when we look back, we say, 'If only we'd bought then,'" she says.
"I'm not looking to sell in the short term and who knows what is going to happen in the long term - I could lose it all on the stock market instead."
Social divide
Ray Boulger, of mortgage broker John Charcol, says the increase in cash transactions has both positive and negative implications.
"If there's cash coming in, no matter where it comes from, it will support the market," Mr Boulger says.
"And if you have a bigger slice of the market that's not dependent on debt, there's no risk of default on that 40%."
He warns it will also mean the social divide is significantly increased.
"Those without access to family money will be increasingly squeezed out of the market if this continues," he says.
Competing priorities
The government says it recognises the problem and is taking steps to help.
It cites the new First Buy scheme, under which the government and house builders offer loans to help first-time buyers purchase newly built homes.
However, conflicting demands on lenders mean those looking to borrow to get on to the housing ladder are unlikely to see a significantly easing in credit conditions soon.
There may be calls for increased mortgage availability, but at the same time, regulators are calling on lenders to hold more capital and be more risk-averse.
"A 90% loan requires lenders to hold around six to eight times more regulatory capital than a 60% loan; it should be no surprise that the rates charged on such lending are higher," says a CML spokeswoman.
Economic concern
While the influence of cash buyers may be socially divisive, these buyers are not just helping to prop up the housing market, but also the wider economy.
"It's not just estate agents who suffer when the housing market turns sour," Mr Pryor says.
"The housing market is often referred to as the engine room of the High Street economy as people use their increasing housing wealth to spend on white goods, second cars or home improvements.
"A healthy housing market makes for a happy High Street," he adds.
Culture change
The difficulty many find in getting on the housing ladder could cause a sea-change in the way Britons view home ownership.
The proportion of people owning and actually living in their properties has been steadily falling, having peaked at 71% in 2004 and fallen back to 67% last year.
Robert Bartlett says this has led to a big increase in the private rented sector and a greater acceptance that an Englishman's home may no longer be his castle.
"We are heading towards a more European set-up where we rent all our lives and people have their wealth tied up in other things," he says.
However, this raises the spectre of increased competition for the available rented properties, pushing up the level of rents.
"There is a finite stock and a desperate need to build new housing in the UK," Mr Bartlett says.
"There is a real danger people who cannot afford [rental prices] will become marginalised."