London accounting companies battle to be the greenest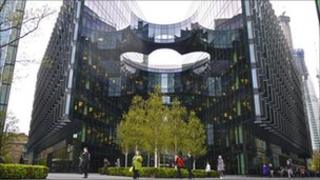 "We're seeing a green arms race between various companies in a whole host of sectors - to be the greenest," says architect Richard Buckingham.
The latest evidence of this race to the top of the eco-league table comes in the form of two new sustainable buildings from two of the biggest accountancy companies in the world.
No sooner had KPMG opened their £340m eco-high rise in London's Canary Wharf - boasting an "excellent" rating on the international BREEAM standard - than rivals PricewaterhouseCoopers (PwC) finished their new headquarters a couple of miles away, upping the ante by receiving an "outstanding" rating for their gleaming glass building.
The bean-counters, often derided as being grey, are leading the way when it comes to being green. And there is a good reason why, says Mr Buckingham, from architecture company BDP, which helped design PwC's offices.
"The green agenda is increasing in its importance with the general public. If companies can be ahead of the curve in embracing this agenda, then it seems to me it's of economic benefit."
Although eco-friendly buildings cost more, he says it is a high-risk strategy if your new building fails to boast a flurry of green credentials.
"It's about future-proofing yourself - nobody wants to be at the bottom of the pile on this agenda."
It is partly about reputation - something hugely important to the world's big accountancy and auditing companies. But it is also about the companies' ability to attract the best staff.
Eco-aware workers
"You have to remember that 70% of our staff are under 35," says Jon Barnes, who manages PwC's buildings across the UK.
"That clearly means they are in an era that really does care about the environment. They really want to see substantial savings in our carbon footprint."
Mr Barnes is clearly proud of his new HQ.
"It was a new project, so there are no excuses for not installing the right equipment, and we've really tried to make this a very sustainable building."
Fitting out the 10-storey building on the south bank of the Thames cost £65m.
In the vast reception area, TV screens flash up slogans designed to impress upon visitors the company's commitment to sustainability: "Building our blueprint for business", "Designed to maximise the use of natural light".
Another highlights the fact that 25% of the building's electricity needs will be generated on site.
The company currently spends £5m a year on electricity across their UK offices - they hope to cut £1m off that bill - and a significant chunk of savings will come from the installation of two generators at the bottom of their headquarters that run on biodiesel.
"What's really important is we don't use virgin fuel. What we insist on - and we have an audit trail for this - is that the only oil we use is waste cooking oil," Mr Barnes says, standing next to one of the huge generators encased in soundproofing material.
These two generators will burn through 45,000 litres of used cooking oil every month.
The chip fat used to feed London's pub-goers is now being collected and processed to provide the heating and air-con for thousands of accountants.
Oil's well that ends well
One of the companies involved in that vast collection process is Uptown Oils. Cans of used cooking oil are delivered throughout the day to a processing plant tucked away under the railway arches in the London district of Southwark.
Here they filter out the old chips, chicken skin and other food remnants that have sunk to the bottom of the cooking oil, and then set about turning it into recycled biodiesel.
Co-owner Jason Askey-Wood admits to being rather surprised when someone approached him asking for 45,000 litres a month.
He has now signed deals with pubs and restaurant chains across London to collect their waste oil, and is optimistic the idea will catch on elsewhere.
"Each city has a large amount of waste cooking oil which can be used to help its environment," he says.
What of the pubs involved in the huge scheme to feed PwC's machines?
The landlady of the Duke of York pub, Lorraine Hart, is happy to be involved.
"It's just fun to be part of something that's in the local business community, so we're all helping one another and doing some good at the same time, I hope."
A battle between two of the world's largest companies to be seen as green not grey may leave some a little cynical.
But Mr Buckingham prefers to take a different view of it all.
"You could sit there and be cynical and say this is only being done for reputational advantage, but at the same time this is a means to an end - from an environmental agenda, things are getting better. Regardless of the motivation, the environment is damaged less."