Wynn Resorts' profits surge on increasing Macau revenue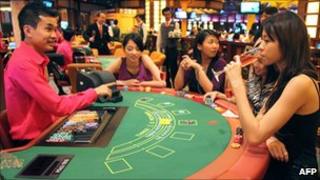 Casino operator Wynn resorts has reported a jump in profits for the first three months of this year driven by a surge in revenues at its Macau casinos.
Net income was $174m (£106m) the company said, a six-fold increase from the same period last year.
The company said revenue from its Macau casinos increased by 47% during the period.
Wynn operates two casino-resorts each in Macau and Las Vegas.
Macau is the only place in China where gambling is legal and only six companies have licences to operate casinos in the territory.
Gambling revenues have been soaring in Macau as Asia's economic success has given rise to a more affluent middle class.
Analysts say this has been driving growth for casino operators.
"Macau continues to do unbelievable," said Chad Mollan of Morningstar.
Wynn Resorts has obtained an approval from the Macau government for a third casino-resort in the territory.
'Pure luck'
While revenues in the Macau have been surging, Casinos in Las Vegas have been struggling in recent years.
Operators have been hit hard by the affects of the financial crisis, a slowdown in the US economy and a glut of new hotels and casinos in the strip.
However, Wynn Resorts said that things have started to turn for the company's operations there.
The company said its revenue in Las Vegas increased by 24% and it was also able to raise its room rates by 10% during the period.
Analysts say that luck also played a part in boosting the company's profits.
"They had a much higher-than-normal win percentage in Vegas, 30.5% versus last year's 23%," said Mr Mollan.
"That's basically pure luck," he added.