Goldman Sachs profits fall on continued weak trading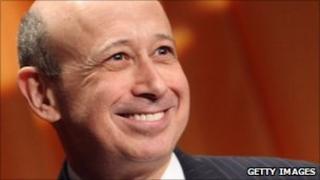 Goldman Sachs saw its net earnings in the first three months of 2011 drop 21% from a year ago, to $2.74bn (£1.7bn).
The profit fall followed continued weak business at its capital markets unit.
Net revenues in Goldman's key division, which makes the bulk of the firm's money trading in bonds, derivatives and stocks, fell 22% from a year ago.
Ordinary shareholders saw their share of earnings slump 72% after the Wall Street firm decided to pay out a $1.8bn dividend on preferred stock.
The dividend payment related to Goldman's buyback earlier this year of $5bn of preferred stock from Warren Buffett, which the billionaire had originally bought in a rescue deal during the 2008 financial crisis.
Net revenues at the broker-dealer - a measure of overall business levels - were down 7% from a year before.
Goldman accordingly cut the amount allotted to employee pay by 5% to $5.2bn, or 44% of its net revenues.
'Good results'
Despite the sharp fall in profits, Goldman's first quarter performance still beat expectations.
The results also marked a rebound from the previous quarter, which had seen a 52% year-on-year slump in profits, again due to lacklustre sales and trading business.
"These are good results," said Joerg Rahn of German investment firm Marcard, Stein and Co. "Yes, expectations weren't gigantic but they were beat nevertheless."
Nonetheless, Goldman's share price was largely unchanged at the open of trading in New York, slightly underperforming the broader market.
The drop-off in debt trading revenues was higher than anticipated, according to Matt McCormick of investment firm Bahl & Gaynor.
"I expected Goldman Sachs to be the best in class on that issue, but all their other peers seem to be facing the same challenges."
Peter Cardillo, economist at Avalon Partners in New York, said: "Goldman Sachs is a bellwether and these numbers will probably begin to calm some of the fears that the market has been worried about."
US stocks fell on Monday following an announcement by rating agency Standard & Poor's that it was putting a negative outlook on the US government's triple-A credit rating.
Meanwhile, another major US financial institution, Bank of New York Mellon, reported net profits of $625m, up 12% from a year ago.
Despite the strong showing from its core custody business, the result still fell short of market expectations.