Argos owner Home Retail Group sees profits fall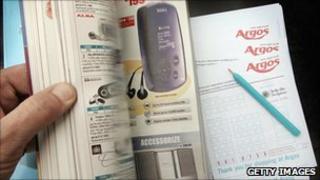 Home Retail Group, owner of Argos and Homebase, has reported full-year profits of £265.2m, down almost 10%.
The drop in profit was in line with expectations, after the retailer issued a warning last month that it would undershoot earlier profit guidance.
But shares rallied to close 5.5% higher at 221 pence, as investors were relieved there was no further bad news.
The firm also said that the head of Argos would be stepping down in June.
Home Retail Group chief executive, Terry Duddy, will temporarily run the Argos chain day-to-day following the departure of managing director Sara Weller, who is leaving for personal reasons after seven years at the firm.
The tough retail environment saw the group's sales fall 3%, with its Argos chain hardest hit, though the stores held their market share.
"They've not taken a step back, which in itself is a positive," said John Stevenson, an analyst at Peel Hunt.
Meanwhile the group's DIY chain Homebase saw its market share grow, but only because it managed to keep sales almost unchanged in what was a shrinking market, according to its full year results.
Low confidence
Home Retail Group's sales dropped off particularly sharply at the beginning of this year, prompting the firm's profit warning in March.
"Economic uncertainty and a low level of consumer confidence continue to adversely impact customer spending patterns," said Chairman Oliver Stocken.
"Despite these challenges, the group continues to build on its strategic advantages to ensure that it will be well-positioned for the economic recovery over the longer term."
The company confirmed its full year dividend.
"In all, much of the bad news is already in the price, with the shares having fallen 27% over the last year, as compared to a 10% gain in the wider FTSE 250," said Richard Hunter, head of UK equities at stockbrokers Hargreaves Lansdown.
'Uncertain' prospects
A growing share of the firm's business is shifting online, reaching almost half of all sales in the case of Argos.
At the same time, the group was able to reveal a 3% cut in operating and distribution costs.
However, this was not enough to prevent a fall in its operating profit margin from 4.8% to 4.3% of revenues.
The outlook for the coming year remains difficult, with the company forecasting a further fall in like-for-like sales at Argos, while at Homebase it expects them to remain stagnant.
"Prospects for the 2011-12 financial year are uncertain as consumers' disposable income, and their willingness to spend, is impacted by an increased VAT rate, an increase in personal taxes and the rising cost of living, plus the additional threat of public sector job losses and potential interest rate increases," said the firm in its statement.
Despite this, the retailer said that it would invest further in store refurbishments and improving its online and mobile platforms.