Pinewood Shepperton approached by second bidder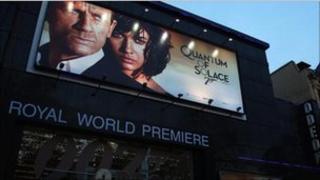 Pinewood Shepperton has received an approach from a possible second bidder, the film studio has revealed.
Earlier this month, the firm received an £87.8m takeover bid from Peel Holdings, a company run by billionaire investor John Whittaker.
But Pinewood has now revealed it has had another bid approach from "an unconnected third party", although it has not yet resulted in a formal offer.
"A further announcement will be made in due course," the firm said.
British films
Peel Holdings has offered 190p per share for the 75-year-old film studio company.
Pinewood's shares ended at 202p, after rising 5.83%, a sign that investors believe the higher offer will materialise.
Peel has recently sold the Trafford Centre to Capital Shopping Centres for £1.6bn and has already built a 29.78% stake in Pinewood.
During 2010, Pinewood filmed the fourth instalment of the Pirates Of The Caribbean franchise, the final Harry Potter film and an adaptation of Jane Eyre.
Pinewood has studios in Buckinghamshire, and at Shepperton and Teddington in Middlesex.
Last month, Pinewood unveiled a 31% rise in pre-tax profits to £5.8m, and said it was looking to the future with "confidence" despite a poor economic climate.
The firm also unveiled an investment plan for small-budget British films.
The company will target films with production budgets of about £2m each and will invest equity up to 20% per film.