Bank of England policymakers remain split on rates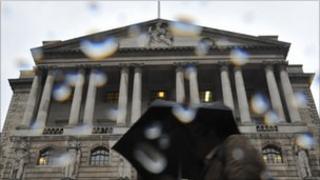 Bank of England policymakers voted six to three in favour of keeping rates on hold at a record low of 0.5% this month, minutes of the Monetary Policy Committee's (MPC) April meeting show.
It is the third month in a row that three members voted for a rise.
The MPC said the inflation outlook had not changed enough to alter their view.
A rate rise in current circumstances would "adversely affect consumer confidence, leading to an exaggerated impact on spending", the MPC said.
The minutes' cautious tone about economic growth caused some economists to conclude an interest rate rise may not come as soon as expected.
Alan Clarke from BNP Paribas suggested the MPC was "not in a rush to hike in the next couple of weeks".
Inflation forecast
One day after the decision was made, it was announced that producer price inflation had unexpectedly accelerated in March to 5.4%, mainly due to higher crude prices.
However, since then it has also been revealed that the rate of consumer prices index (CPI) inflation fell in the month to 4%, from 4.4% in February.
Following the slowdown, financial markets do not now expect the Bank to raise rates until August.
It was "hard to know how to interpret" the March inflation data, an advance - but insufficiently detailed - estimate of which was provided to the Bank in time for their meeting, according to the meeting's minutes.
Indeed, the Bank again upped its forecast for inflation over the coming months - thanks to further rises in commodity and energy prices - and said there was now a significant risk inflation could exceed 5%.
However, despite concerns raised by the more hawkish members that inflation could become more entrenched, the MPC said recent data suggested that wage growth had remained muted.
A key question for the committee was how long an apparent recent softening in household spending would continue.
On the one hand, it could be due to a long-term squeeze on real incomes as wages fail to keep up with inflation, but on the other it could be a short-term response to the VAT rise and other temporary factors.
Bank chief economist Mr Dale and external MPC member Martin Weale both again voted for a rise in rates to 0.75%.
And Andrew Sentance maintained his call for an increase to 1%.
Meanwhile, Adam Posen was again a lone voice calling for an additional £50bn of quantitative easing.
The Bank will, however, maintain the stock of UK government bonds it owns at £200bn.