IBM profits rise on strong growth from emerging markets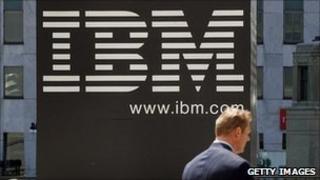 IBM has raised its full-year profit estimates as the world's largest computer services firm posted quarterly earnings ahead of analysts' forecasts.
Despite some disruption after Japan's earthquake disaster, the firm made a profit of $2.86bn (£1.75bn), up from $2.6bn for the same period last year.
Growth in business from emerging markets such as Russia and China were key to IBM's improvement.
But shares in IBM fell 2% in after-hours trading on Wall Street.
Revenue rose 8% from a year earlier to $24.6bn, beating the average analyst forecast of $24bn.
The US and Asia, excluding Japan, were the strongest markets for IBM, with Europe and Japan lagging.
Hardware sales did particularly well, rising 16% during the quarter.
The company's consulting and outsourcing businesses, which account for more than half of revenue were more sluggish, with revenue rising just 3%.
Kim Caughey Forrest, senior analyst at Fort Pitt Capital Group, said: "Growth in North America was very strong, probably stronger than I had anticipated and it's great the company was able to hold gross profit margins relatively high."