Art an attraction for investors says Rics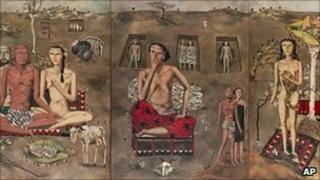 Contemporary art has been an attraction for both art-lovers and investors so far in 2011, a survey has indicated.
The price of contemporary art rose sharply in the first three months of the year, the Royal Institution of Chartered Surveyors (Rics) said.
The group's arts and antiques survey found that all forms of art were showing price rises.
Surveyors expected this trend to continue during times of low interest rates.
This is the ninth consecutive quarter of rising prices, according to the survey.
"The sharp upturn seen in the contemporary art market over the last few months is encouraging, and the sector is now performing at its best level in well over two years," said John Anderson, of Rics.
"With sale prices increasing for works of all value brackets, it would appear that buyers are looking to contemporary works both for their investment potential and their aesthetic appeal.
"This positivity is reflected right across the art and antiques sector, with all areas experiencing rising sales prices. The more traditional items, such as precious metals and jewellery, are still the preferred lots but the growing demand for quality pieces is particularly noticeable in the salesrooms and this looks set to continue."