Galleon hedge fund boss 'wanted to conquer market'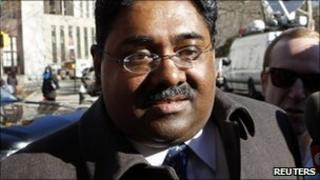 A billionaire hedge fund boss wanted to "conquer the market", prosecutors have claimed in their summing up of a major insider dealing trial.
They claimed Raj Rajaratnam, founder of hedge fund Galleon Group, took advantage of friends and employees to illegally make millions of dollars.
Mr Rajaratnam's defence told the New York court the alleged insider tips he got from them were common knowledge.
Mr Rajaratnam denies 14 counts of securities fraud and conspiracy.
He faces as much as 25 years in prison if convicted.
He is accused of making as much as $63.8m (£39m) of illegal profit from 2003 to March 2009 by trading on tips from a network of highly-placed corporate insiders.
The Assistant US Attorney, Reed Brodsky, told the jury in his closing argument on Wednesday: "The defendant knew tomorrow's news today, and that meant big money."
He added that the defendant tried to "conquer the stock market at the expense of the law", and that there was "overwhelming" evidence of his guilt.
The court has heard dozens of secretly recorded phone calls.
Mr Rajaratnam, who is 53, is the central figure in a sweeping US government probe of insider trading at hedge funds, and the only defendant so far to go on trial.
'Unreliable'
Mr Brodsky spent four and a half hours summing up the government's evidence against Mr Rajaratnam.
In response, Mr Rajaratnam's chief defence lawyer, John Dowd, said: "The government's case rests on the fictional idea that company information cannot become public until a company issues a press release.
"In the real world information can become public in all kinds of ways."
He also said that the testimony of three witnesses for the prosecution was "unreliable" and "worthless".
Mr Dowd spoke for about an hour and is expected to continue his closing statement on Thursday.
The jury could start their deliberations on Thursday, or on Monday after the Easter weekend.
In his summation, Mr Brodsky focused on the testimony of Anil Kumar, a former McKinsey & Co partner who said Mr Rajaratnam paid him $1.75m to provide tips.
A former Intel executive, Rajiv Goel, also gave testimony saying that he passed company information to Mr Rajaratnam in the biggest Wall Street insider-trading trial in decades.
Prosecutors have called the case the "largest hedge fund insider trading case in history".
So far more than two dozen people have been criminally or civilly charged in the case. Most of them have pleaded guilty.