Fiat warns Japan earthquake will hit Europe car output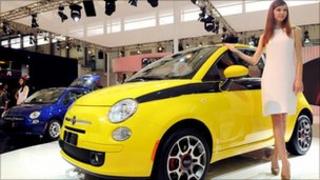 The Italian car giant Fiat says European car production will be cut by up to 100,000 units because of supply chain hold-ups in Japan.
The company said delivery of certain radios and satellite navigation systems from Japan would be interrupted.
Fiat's chief executive, Sergio Marchionne, said he expected a return to normal operations by October.
His comments came as Fiat reported a rise in first quarter trading profits of 9%.
The main growth came from strong sales in Brazil, whose production will not be affected by Japan's earthquake, and of light commercial vehicles.
Fiat, which controls a 30% share of Chrysler, has previously said that the quake was expected to lift prices on some Chrysler models because of delays in component supplies as a result of last month's earthquake.
The company said it was still planning to own 51% of Chrysler, the third biggest car maker in the US.
Mr Marchionne said: "If we ever get 51% of Chrysler, we would be more than delighted."
He is trying to repay $7bn of Chrysler's debt with the US and Canadian governments to take an additional 16% stake that would cost some $1.5bn.
Fiat lowered its own first-quarter net industrial debt to 489m euros ($704m), a larger fall than had been expected.
That news helped the share to rise by 4.6%.
Fiat told the Reuters news agency on Wednesday it had also had to reduce the number of colours offered to customers as it could not get hold of certain pigments produced in Japan.