Apple profits nearly double as iPhone sales soar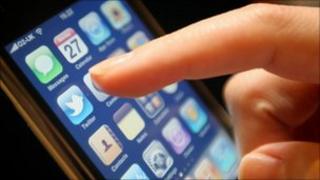 Latest profits for computer giant Apple have beaten forecasts, helped by higher-than-expected iPhone sales.
Apple reported quarterly net profits of $5.99bn (£3.6bn), nearly double what it made a year ago. Revenue was $24.67bn, a rise of 83%.
Apple sold 18.65 million iPhones, a rise of 113%. But iPad sales were 4.69 million, below analysts' expectations.
Shares of the tech giant, which released its figures late on Wednesday, rose 2.5% in New York.
The figures are the latest in a string of good results from US technology companies.
Challenges ahead
Apple chief executive Steve Jobs said in a statement: "We're firing on all cylinders."
Mr Jobs, who went on medical leave in January with an undisclosed illness, continued: "We will continue to innovate on all fronts throughout the remainder of the year."
But the iOS - Apple's operating system for the iPhone and iPad - faces huge challenges from the likes of Google.
A report last month from market research firm Nielsen found Google's Android had become the most popular operating system among US smartphone users - accounting for 29% of the market, in comparison to iOS at 27%.
Google has released Honeycomb, the latest version of Android designed for tablets, and Canadian firm RIM, maker of the BlackBerry, recently launched their first tablet.
'Dynamite numbers'
Sales of the company's computers were strongly higher, up by 28% from a year ago driven by its improved MacBook Pro.
Apple's figures were not uniformly positive. Besides the iPad, another disappointment was sales of its one-time star, the iPod, down by 17% on the year at 9 million units.
Most analysts were enthusiastic about the figures.
Channing Smith, portfolio manager at Capital Advisors growth fund, said: "Dynamite numbers across the board. The only hiccup is lower than expected iPad numbers."
The day-to-day running of Apple is currently being done by chief operating officer Tim Cook.