Persimmon and Taylor Wimpey confirm new homes upturn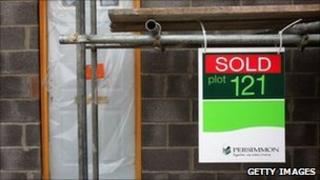 Persimmon has reported signs of recovery in the new homes market.
The homebuilder said new sales reservations for the first three months of the year were up 12% on a year ago.
After a soft start to the year, the firm said its order book of £1.14bn had caught up with the level of a year ago.
Meanwhile rival Taylor Wimpey said market conditions remain "resilient" and reported an order book of 5,681 houses, up 21% since the beginning of the year.
"Market conditions in the UK remain resilient despite the ongoing uncertainty in the wider economy and the restricted level of mortgage lending," Taylor Wimpey said in a management statement, adding that its business was performing in line with expectations.
The company is looking to help ease mortgage availability by expanding its "Take5" scheme, in which it sponsors 95% loan-to-value mortgages to buy the properties it builds.
Taylor Wimpey said it expected conditions to remain flat during the rest of 2011, but would use proceeds from the sell-off of its North American business to finance new site purchases.
Retirement
Meanwhile, in its own management statement, Persimmon reaffirmed its plan to complete the same number of homes this year as in 2010, with the bulk coming in the second half.
The firm said it was focusing on building pricier homes.
It comes after the homebuilder revealed earlier in the year an almost doubling of its pre-tax profits in 2010, thanks to a 10% increase in revenues for the year.
Persimmon's chairman of the last five years, John White, retires after the company's annual general meeting on Wednesday.
He has been with the firm for 32 years, becoming chief executive in 1993.