Fiat raises Chrysler stake to 46% in $1.27bn deal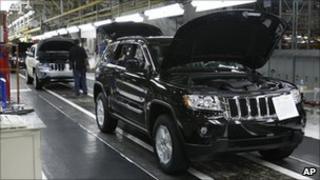 Italian carmaker Fiat says it has reached a deal to buy an additional 16% stake in Chrysler for $1.27bn (£774m).
The move takes Fiat's stake in the US's third-largest carmaker to 46% and raises speculation about an eventual takeover this year.
After Chrysler emerged from bankruptcy in 2009, Fiat agreed with the US government to share technology and management in return for a 20% stake.
Fiat then increased its holding to 30% after Chrysler met performance targets.
"The transaction that we are announcing today represents a historic step for Fiat and Chrysler," Fiat chairman John Elkann said in a statement.
"Fiat, together with Chrysler, will create a stronger automobile group, with a full range of products, present in every market around the world and able to compete with the best," he said.
Fiat may be granted a further 5% in Chrysler by the US government if it meets certain targets, giving the Turin-based company majority control.
On Wednesday, Chrysler announced that vehicle sales in the US rose 23% in the first quarter of 2011 to 287,000 new cars and trucks.