UK public borrowing less than expected in last year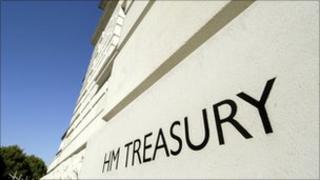 The UK government borrowed less than expected in the last financial year, official figures have shown.
Public sector net borrowing, excluding interventions such as bank bail-outs, was £18.6bn in March, according to the Office for National Statistics.
Total borrowing for the year to 1 April was £141.1bn.
That is less than the £145.9bn that was forecast by the government-appointed spending watchdog, the Office for Budget Responsibility (OBR).
This figure, announced by the chancellor during the Budget last month, had already been lowered by £2.5bn from the initial estimate of £148.5bn.
Spending cuts
Chancellor George Osborne - who has implemented measures to try to reduce the deficit such as hiking VAT and cutting government spending - also said that borrowing was expected to fall to £122bn next year.
Since many of those measures kick in from this month, observers will be watching the borrowing figures over the next few months to see how quickly the impact feeds through.
Public sector net debt is forecast to peak at 70.9% of gross domestic product in 2013-14, Mr Osborne has said.
The March borrowing figure was in line with expectations.
It comes after public sector borrowing in February reached £11.8bn, a record for that month of the year, and nearly double the amount forecast by economists.