TalkTalk tops Ofcom's phone complaints list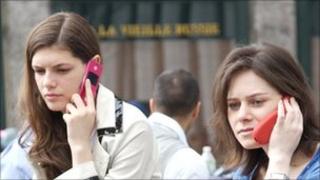 TalkTalk is the most complained about telecoms firm for landline and broadband services, the regulator says, while Three tops the list for mobiles.
Ofcom receives 450 telecoms complaints every day ranging from mis-selling to billing errors.
The regulator has released these complaints figures for the first time, but only for the larger companies.
Virgin Media was the least complained about for landlines and broadband, with O2 bottom of the list for mobiles.
The figures cover complaints made to Ofcom, rather than the providers themselves, between October 2010 and February 2011.
The regulator has included all these complaints in the data, even if the customer's gripe is ultimately not justified.
Repayments
The figures cover providers with a UK market share of at least 5%.
For landline services, complaints were topped by TalkTalk with 1.78 complaints per 1,000 customers, followed by BSkyB with 0.41, BT with 0.37, and Virgin Media with 0.21.
For broadband services, TalkTalk was again the most complained about, with 1.27 complaints per 1,000 customers, followed by BT with 0.61, BSkyB with 0.39 and Virgin Media with 0.2.
A TalkTalk spokesman said: "We recognise that in the period in question not all customers received the service they deserved as we completed the complex task of moving them to our network and a new billing platform.
"We are sorry for the disruption this caused and, while it is encouraging to see the number of complaints decreasing towards the end of this period, we continue to work tirelessly to improve."
In February, TalkTalk and Tiscali confirmed that they had repaid nearly £2.5m to customers who were billed for services that had been cancelled following Ofcom intervention.
Complex complaints
For mobile phones, the Ofcom figures show that the most complaints were about Three UK with 0.15 complaints per 1,000 customers.
A spokesman for Three UK said the provider was involved in complex smartphones and so complaints themselves could be complex and end up with the regulator.
"While the data suggests most mobile operators generate a similar number of complaints and our smartphone-focus means our customers can and should be more demanding than average, this is one chart we do not want to stay top of," he said.
Next on the list was T-Mobile with 0.13, followed by Orange with 0.1, Vodafone with 0.09, and O2 with 0.04.
Ofcom Chief Executive, Ed Richards, said: "Consumers should have access to as much information as possible to allow them to choose between providers and to take full advantage of the competition in the sector.
"By publishing complaints data, Ofcom aims to provide useful information to consumers, and also to give telecoms providers an incentive to improve their customer service."
Robert Hammond, of watchdog Consumer Focus, said: "These complaints are likely to be the tip of the iceberg. We would call on all telecoms providers to also publish details of complaints their customer services teams receive.
"Suppliers should see customer service as something which will give them a competitive edge on their rivals."
The figures cover 87% of the telecoms market.
Complaints are not dealt with on an individual basis by Ofcom, but are used to identify any particular issues that require new regulations from the regulator or an investigation into a particular company.
Consumers who have a complaint about their provider should follow their provider's complaints process and, if the complaint is not resolved after eight weeks, the customer can take it to an independent resolution service - CISAS or Ombudsman Services: Communications.