General Electric profits increase and beat forecasts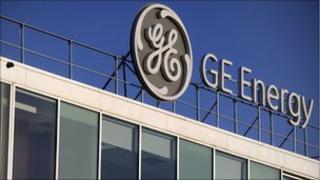 Profits have surged at US conglomerate General Electric (GE), adding to the wave of corporations whose earnings have exceeded expectations.
GE said net earnings had risen by 79% to $3.4bn (£2.01bn) for the first three months of 2011 from a year earlier. It also increased its dividend.
Revenue rose 6% to $38.45bn, when many analysts had expected a decline for the quarter.
Apple, Intel, Nokia and McDonald's have all beat forecasts this week.
GE is seen as a bellwether for the US economy, given the breadth of its operations, which include a financial arm as well as industrial units.
The profit growth was fuelled by growth in its healthcare and transport divisions, and net profits of $1.8bn at GE Capital.
"As today's results show, GE has emerged from the recession a stronger, more competitive company," said GE chief executive Jeff Immelt.
The dividend increase - by one cent to 15 cents - is the third in the past 12 months, and is effective from the third quarter of this year.